Alsace Overview
At once French, at once a region apart - Alsace is a subtle cultural blend created from its history of existing between France and Germany. All artisanal beers, chacuterie, foie gras, strong cheeses and the northern Route de Vins. We will visit Colmar with its canals, Strasbourg with its ancient histories and the eagles peak, fairy castles that dot the Vosges mountains.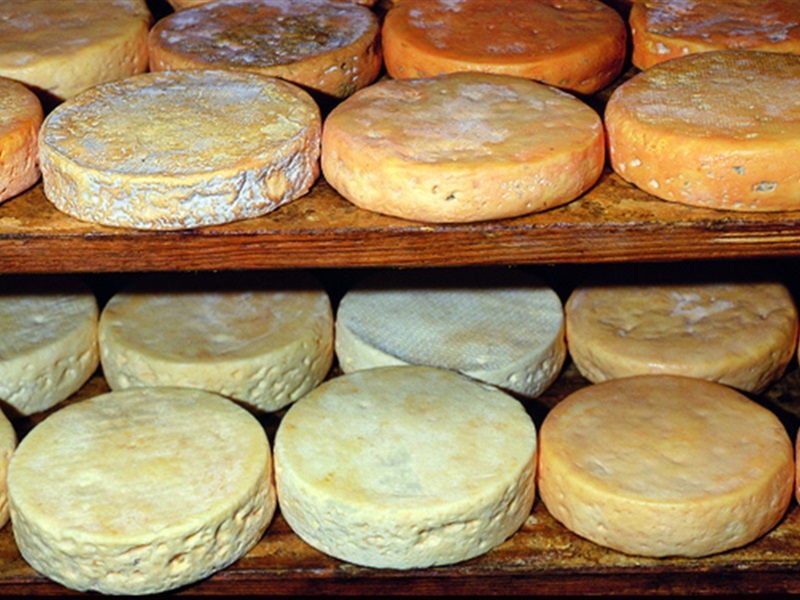 The Cheeses
Munster or Munster Géromé
Bargkass
Brouère
Bibalakass
Tomme fermière des hautes Vosges
Of course, the most typical cheese of Alsace is Munster or Géromé. This is one of the three oldest cheeses of France. It is made on both sides of the Vosges Mountains. Alsatians call it Munster from the word Monastère, or monastery. Lorrainers call it Géromé, a deformation of the name of the city Gerardmer which in the fifteenth century became a very important market for cheese and was the source of its manufacture in the eleventh and twelfth centuries. The Géromé then weighed up to three pounds and came in a pine box. Since 1978, Munster has its own AOC (Appellation d'Origine Controlée).
Legends abound about the origins of this cheese. One has it that Munster dates back to the 9th century,the days of Charlemagne, when the monks came to Christianize the area, the recipe was left to an abbey founded by Irish monks in Munster in the Valley of St. Gregory (Münster im Gregoriental). Another says it was invented in the 7th century by the monks of the Benedictine Abbey of Munster Monastère as a way to preserve milk. Whichever is correct, peasants of the area paid part of their taxes to either, the Dukes of Lorraine or the convent in the area.
Today, it is produced in seven departments in the Valley of Munster via traditional methods specified by prescribed standards and has had its AOC (Appellation d'origine contrôlée) since 1969. 8,120 tons were produced in 2007 of which 14% were from raw milk and 9% were classed as fermier. There are approximately 100 producers of Munster fermier and seven cooperatives and private industrial producers.
Munster is a cow's milk cheese; with a soft interior and a washed rind. Usually it is 13 to 19 cm in diameter, 2.4 to 8 cm in height, weighs between 450 g to 1.5 kg and has a fat content of 45% in dry matter. There is a special type called Petit-Munster, Little Munster or Petit Munster Géromé, Little Munster Géromé, which is 7 to 12 cm in height and 120 grams. The rind is washed with Brevibacterium linens, which creates the distinctive smell of dirty socks. The cheese has a slick and shiny orange rind; a semi-soft body; an intense nose with a sharp bite yet a subtle and creamy taste.
Confrérie Saint Grégoire du Taste-Fromage de la Vallée de Munster
This professional society was created in 1987 and has about 450 members who celebrate this great cheese. The robe worn by the members reminds us of the monk's habit from the Munster Abbey. Each member has a bronze medal with the escutcheon of the village of Munster in the centre and around it the escutcheons of the 15 other towns of the district.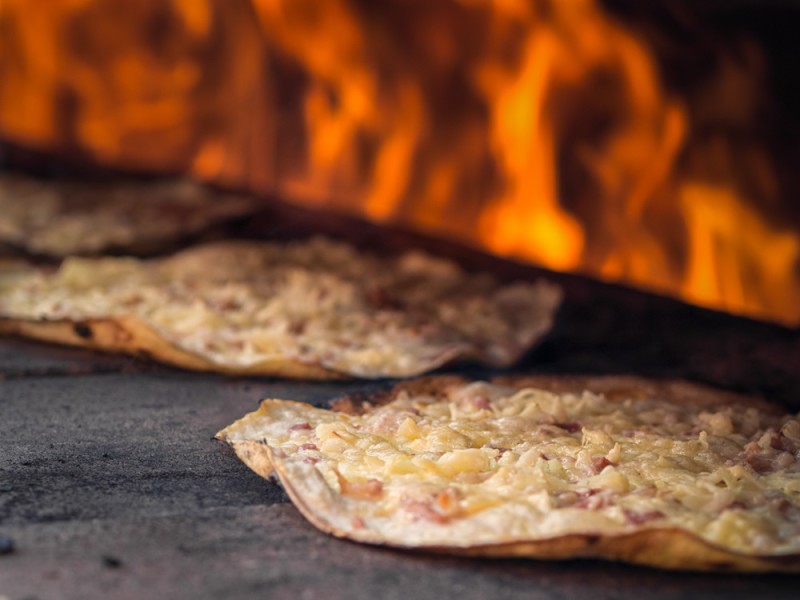 Gastronomy
Foie gras
Foie gras is the most refined dish of Alsatian gastronomy. It has long been argued which region could claim to be the creators of this most sensuous of foods.  Alsatian foie gras owes its reputation to the foie gras pâté created in 1778 by Jean Pierre Clause, the cook of Marshal Contades, who was the military governor of Strasbourg at that time. Foie gras can be served cold in a terrine, or hot in different ways: one of the most popular recipes is sliced foie gras, fried in its own fat served with potatoes.
Flammekuche : pizza, Alsatian-style
Traditionally it is a rectangular shaped piece of bread dough, topped with crème fraîche, thinly sliced raw onions, and lardons or small stripes of bacon. Flammenkueche was originally a simple farmer's meal, now it can be found everywhere in the region.
Legend says that the "creators" of this dish were Alemannic farmers who used to bake bread once a week or every other week and to test the oven temperature. The first flames that burned when the oven is started up were used for making the tart, hence the name tarte flambée or flame tart in French. If the tart was finished within two minutes, the oven was deemed to have reached its right temperature for the bread.
Charcuterie and Knack
Certainly, Alsace can boast a heritage as rich as its sausages neighbours across the Rhine. Alsace is one of the most famous French regions for the variety and quality of its cold meat. There are loads of other cold meat products in Alsace: from ham to blood sausages, and all sorts of smoked meats and liver sausage. One of the most typical specialities of Alsatian cold meat is, without a doubt, the knack.
Choucroute : Alsatian sour cabbage
Amongst the regional specialities that have made Alsatian cooking famous, choucroute or sauerkraut is, without a doubt, the most well-known. High vitamin C it is finely chopped, sour and crunchy, and one of the favourite dishes of Alsatians. Since the 18th century it has been flavoured with juniper berries, elder, dill, sage, savoury, fennel, chervil, parsley or horseradish. A text from the 16th century stated that choucroute was a dish for Sunday and was best with sausage or a piece of pork rib.
Bretzels (Pretzels)
Bredchdel pour les Bas-Rhinois, bradchdal pour les Haut-Rhinois, some say that pretzels, which are truly emblematic of traditional Alsatian baking, were invented by a baker from Ingwiller. Some say that this baker, who was much loved by the villagers, had a weakness that landed him in prison: swearing repeatedly against the lord. In exchange for his freedom, the lord asked him to invent a cake in which he would be able to see the shape of the sun three times. And thus the pretzel was born. Another explanation attributes the shape of the pretzel to very ancient sun worship: according to this theory, pretzels originally consisted of a cross with a ring around it. In any case, this crunchy biscuit, made from dough poached in water, is very popular.
Wine
Alsacien wines are distinctive for their varietals, their wine making styles and their bottles. A bottle of Alsace Wine is instantly recognisable with its long and slender silhouette, which is a distinctive "flûte" shape. It is part of the regions branding effort and is compulsory for all still wines from the region. Additionally, there are three official wine appellations that can only be bottled in Alsace.
AOC Alsace
This appellation serves as a guarantee of the authenticity of the Alsace terroir and of the expertise of its producers. It designates wines which are made from a single variety of the 7 permitted grape varieties, or a blended (or assemblage) wines carrying the "Edelzwicker" or "Gentil" indication.
AOC Alsace Grand Cru
Only given to fine wines meeting strict quality criteria, wines from this appellation originate from one of 51 defined locations and are named after the specific locality. These distinctive wines represent the full expression of the regions terroir through their aromatic profile and structure. Grape varieties permitted in the creating of Grands Crus wines are Riesling, Muscat, Pinot Gris and Gewurztraminer. Under certain conditions of ripeness, the bottle labels may say "Late Harvest" (long ripening of the grapes) or "Selection of Noble Grapes" (a selection of grapes affected by noble rot, or botrytis).
AOC Crémant d'Alsace (Sparkling wine)
Sparkling wines from Alsace are the product of traditional methods dating from before the 19th century and are made predominantly from Pinot Blanc and occasionally Pinot Gris, Riesling or Chardonnay, and Pinot Noir in the case of Crémant Rosé. The wines currently dominate the Crémant wine category in France. Lively, delicate, sparkling, these wines are served as an aperitif or with food, yet can be served for any occasion.
Beer
Present in the regions since the Middle Ages, beer presents a vast Alsatian patrimony. This quintessentially festive beverage goes just as perfectly with cold meat as with pretzels served before dinner. From the ninth century, the monks have made beer, becoming master brewers, while the Gauls improved fermentation and created the famous ale. Gradually the small artisanal producers regrouped into six major breweries, three are conglomerates which purchased the remaining regional brewers – Adelshoffen, l'Espérance and Fisher are now part of Heineken; Saverne is now part of Karlsbräu, Kronenbourg, a part of Danone and two independents Schutzenberger (la doyenne) and Météor. Today these six produce 56% of French production of beer.
Eaux de Vie (Schnapps)
lsatians since the Middle Ages have produced many varieties of fruit liqueurs, confitures and fruit products. Produced in small pot stills by methods passed down from father to son for generations, the liqueur is a colourless alcohol call eaux de vies, or waters of life. These are dry, but sweet fruit liqueurs & fruit syrups (sirop) which are non-alcoholic are also made in the region. They are served cool in chilled glasses, have a highly scented, heady aroma and taste of fruit.
While Mirabelle and Quetsche plums are the most common types, producing dry and generally very fruity spirits, poire (pear), framboises (raspberries) and kirsch (cherry) liqueur are also made as well as hundreds of others. Traditionally, Eaux de Vie (Schnapps) is offered as a digestive, preferably served in large glasses, to bring out all the subtlety of its flavour and its powerful kick.
Mineral Spring Waters
Mineral water is also an important product in the region. Alsatian springs, most of which are located in the foothills of the Vosges Mountains, offer high-quality water. The most well-known Alsatian waters are from the Soultzmatt, Carola, Wattwiller and Celtique springs. The city of Mulhouse supplies its residents with water that has had no treatment whatsoever.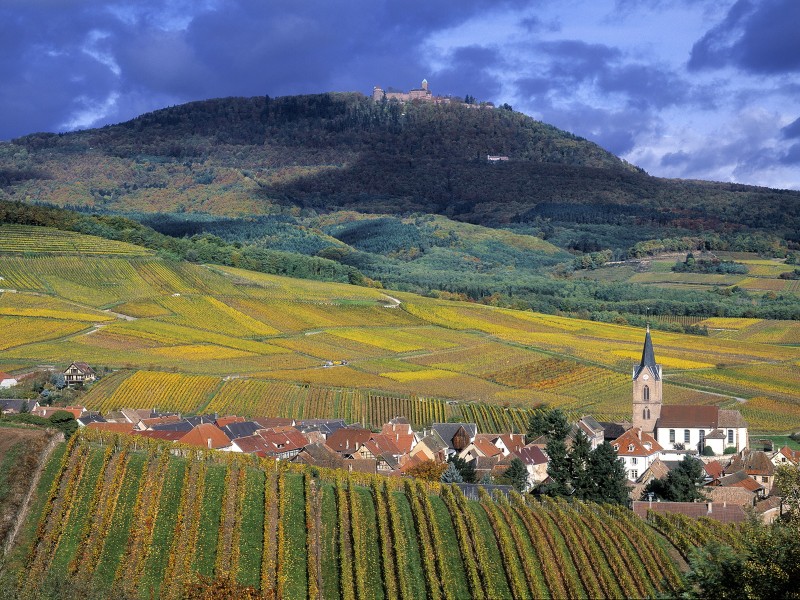 Regional Interest
Situated in the center of Alsace, between two other big industrial poles that are Strasbourg and Mulhouse, Colmar is must see stop. The medium-sized city, possesses numerous monuments and its typical districts are particularly beautiful and well emphasized. Besides, Colmar possesses several interesting museums, among which the museums of…
Alsace is a region with an immense amount of different things to do and see – fabulous architecture, romantic little villages, museums, gastronomy and wine. Strasbourg is a city of many personalities, with its canals,  its monumental cathedral and its UNESCO World Heritage status.  The Wine Route is long winding road through some of the most bucolic countryside and the one pretty little town after another all rolling down the western slopes of the Vosges, quietly rolling down the mountainsides. Here there are over fifty local wines with the registered designation of origin 'Alsace Grand Cru'.
One of the most popular monuments in France, Haut-Koenigsbourg Castle was built in the 12th century and occupies a very strategic position overlooking the main valley to watch over the wine and wheat routes to the North and the silver and salt routes from West to East. It was reduced to ruins by the Swedes but in 1899, when Alsace was under German rule, Kaiser Wilhelm II rebuilt to become a museum.
Little Venice of Alsace, Colmar is a city full of charm and history with its distinct personality. There are several interesting museums and street markets worth visiting.
Interested in the Alsace Journey
Don't miss out. Make your enquiries now.
A unique region in the northeast of France. A land of rolling hills, the beautiful Vosges mountains, rivers and canals and the sinuous Alsacien Route des Vins. The unusual terroir of this region produces original unique wines, charcuterie, specialty candies, biscuits, preserves and eaux de vies and historians even say foie gras originated from here. We honour the famous Munster d'Alsace which originates from this region.
Pricing 2016

| €/pers 7 days | Guided 8 per | Guided 4 per | Self Guided |
| --- | --- | --- | --- |
| Domaines | €4175 | €4850 | €3200 |
| Terroirs | €4025 | €4675 | €3050 |
Enquire Now
Directions
le région d'Alsace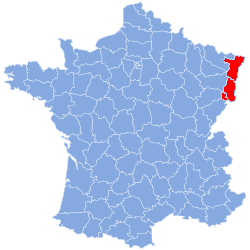 Testimonials
"One cute little town after another, nice people and the cheese, food and wine were astonishing!"
Sandy & Dan Dawson, Agua Dulce, California
View Testimonials
photo credit : D&T, various works licensed under Creative Commons Attribution Licenses, Village-de-Rodern-et-Haut-Koenigsbourg-©-AAA-Zvardon
This work is licensed under a
Creative Commons Attribution-ShareAlike 4.0 International License
. You can view all
Photo Attributions here
.