Alsace Itinerary
Day 1
Welcome at the Strasbourg Train Station
Your guide and driver will welcome you at the arrival area of the 10h45 TGV from Paris in Strasbourg station. You will board on our luxury minibus to be comfortably transported to another world. Thirty minutes later, we will reach Saverne where we begin our discovery of Alsace.
We begin by viewing the castle of Prince Bishops of Rohan and its imposing neoclassical facade. Then, a few steps away, we discover the lively pedestrian area of the town where we will lunch in a richly carved half-timbered house from the 17th century which represents one of the most remarkable architectural symbols of Alsace.
Saverne – La Taverne Katz – Lunch
After lunch, we return to Strasbourg first visiting a duck farm that produces the famous foie gras from Alsace, then a traditional Alsacien brasserie famous for its artisanal beer and it's pub.
We will arrive in the centre of the old city of Strasbourg where we will have the opportunity to begin to discover this wonderful world heritage site, before dinner and spending our first night there.
Dinner will be served two steps from the Cathedral at the Maison Kammerzell. A heritage listed building whose construction dates back to 1427, its present form was created in 1589 by a local cheese merchant Martin Braun and has operated as a restaurant since the 19th century.
Strasbourg – La Maison Kammerzell – Dinner
Guests of the DOMAINES formula will spend the night at the Hotel Regent Petite France and the TERROIRS formula will be accommodated on site at the Maison Kammerzell.
DOMAINES
Strasbourg – Le Régent Petite France – Night and Breakfast
TERROIRS
Strasbourg – Baumann/Maison Kammerzell – Night and Breakfast
Day 2
After an early Alsatian breakfast, we will drive through the pretty villages of Rosheim and Boersch to admire the medieval city gates, arriving at Ottrott with its two ancient castles of Rathsamhausen and Lutzelbourg and famous for its unique Alsacien red wine which originated in the 12th century. We will stop for lunch in the beautiful Hostellerie des Chateaux.
Ottrott – Hostellerie des châteaux – Lunch
After lunch we will visit the Mont Saint Odile. According to the legend, Odile was born blind and regained her sight the day of her baptism and she then decided to devote her life to God. Thus, about 680, her father, the Duke Aldaric, built a monastery on top of the mountain that now bears her name and from where the views extend over the Vosges and the plain of Alsace.
Coming down from the Mount, we will follow the famous Route des Vins (wine route), passing through the pretty village of Barr, then Gertwiller where there is the colourful museum dedicated to Alsacien gingerbread and then head to Obernai.
The hotel and the restaurant are located in the centre of town, therefore at your leisure, you will be able to visit this typical, lively village and discover the fragrant flavours of Alsace.
Obernai – Le Caveau de Gail – Dinner
Obernai – Hôtel du Parc – Night and Breakfast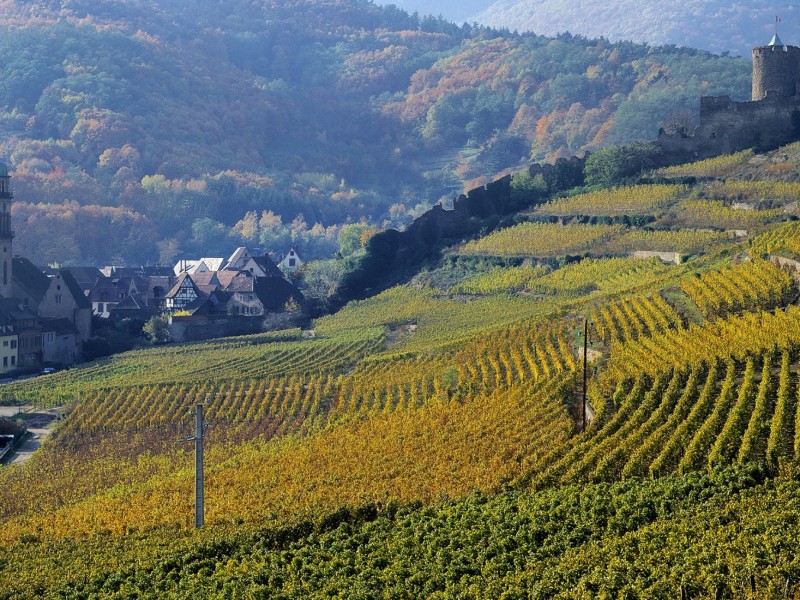 Day 3
The first part of the day we will find ourselves once again on the famous Route des Vins with its picturesque villages of the Lower Rhine. We will pass through Mittlebergheim, one of the most beautiful villages in France, then by Andlau and Itterswiller where we will be welcomed by the Sohler family (winemakers for fourteen generations) who will help you discover their subtle and very affordable artisanal wines,.
We will leave the Route des Vins to enter in the Vosges mountains and through the Val de Villé (schnaps valley) where we visit the famous distillery Legoll, which produces, among other things, traditional alcohols made from plums, raspberries and Alsace pears.
Not far away, we stop for a light lunch in a charming village perched on the mountain.
La Vancelle – Restaurant Frankenbourg – Lunch
We will continue our path in this Vosges valley to the Col du Bonhomme. Where we will arrive in Lapoutroie to visit the traditional cheese maker Haxaire and take the opportunity to taste their famous Munster and a selection of other delicious cheeses made on site all accompanied by matching wines of Alsace.
A short trip will then lead us to Kaysersberg, where we will stop to discover one of the most charming cities of Alsace, also the birthplace of Dr. Albert Schweitzer, with its cobbled streets, its rich-timbered houses and medieval sites grouped around the church.
Finally, we will reach the end of our journey for the day in the heart of the vineyards, the village of Riquewihr, another one of the most beautiful villages in France. It is in this medieval fortress city that we will spend the night in a hotel with rustic charm. Ideally located in the heart of the city, you will have plenty of time to explore the narrow streets lined with colourful houses and flowers, visit the cellars or the many stalls selling local crafts.
For dinner, we offer the Table du Gourmet Jean-Luc Brendel, arguably the best restaurant in town. Unless you prefer to munch some local specialties and learn to recognize the Alsatian wines in the warm atmosphere of the cellars of the city.
Riquewihr – La Table du Gourmet – Dinner
Riquewihr – A L'Oriel – Night and Breakfast
Day 4
We leave Riquewihr through a sea of vines to reach Kientzheim where we stop to admire the towers of the city wall dating from the 14th century and for a visit to the wine museum.
Retracing our steps, we will discover neighboring Hunawihr, yet again another one of the most beautiful villages in France, then go to Ribeauville, not far from Notre Dame Dusenbach (a place of pilgrimage dedicated to the Virgin Mary since the 13th century).
A short while later, after passing through Guémar, with its magnificent city gate, we will reach Illhaeusern where we will stop to experience a moment of pure gourmet ecstasy. Created and directed by Haeberlin family for 150 year, boasting three Michelin stars since 1967, the Auberge de l'Ill is a temple to French haute cuisine.
Illhaeusern – Auberge de l'Ill – Lunch
We will then take the road towards Turkheim where we will stop to explore this beautiful medieval city, its richly decorated half-timbered house, and its monumental gates with their overhanging nests for the famous returning storks.
A few minutes drive and we'll be in Colmar where you can visit the Unterlinden Museum, a museum rich with fine arts and the invaluable Issenheim Altarpiece, then you can stroll through the historic downtown, charming and romantic, before a sumptuous dinner at the Maison des Têtes, featuring homemade Goose Foie Gras with Riesling, an unforgettable memory.
Colmar – La Maison des Têtes – Dinner
For both formulas, our guests will stay at Le Marechal located in the heart of Little Venice.
Colmar – Le Maréchal – Night and Breakfast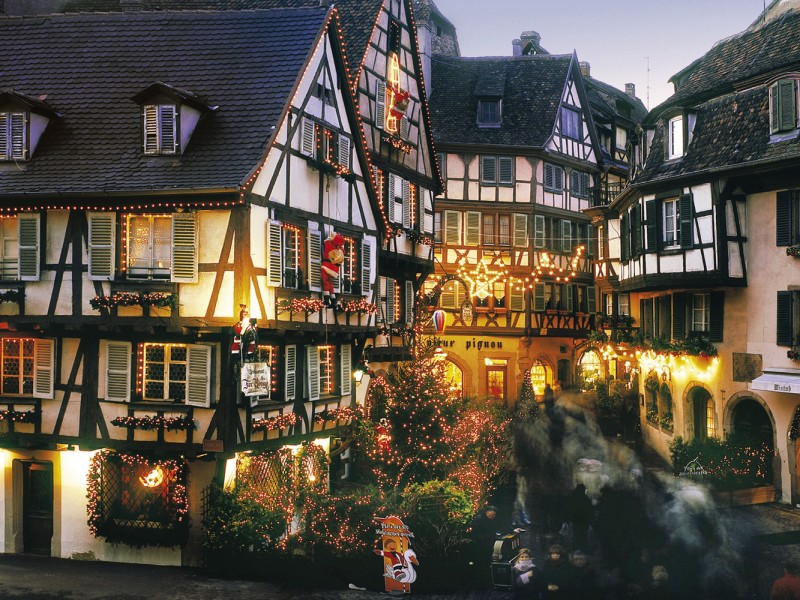 Day 5
Before leaving Colmar, we will take a moment to browse the picturesque district of Little Venice, with its pastel houses lining the Lauch river.
Then we will head south to reach Eguisheim, yes another one of the most beautiful villages of France, founded by the nephew of Saint Odile in about year 720 on a site that had been occupied since Paleolithic age. We stop to explore the square of the castle, the church, its narrow streets, its half-timbered houses built in the 13th century with their flowered balconies.
We will then go through Husseren famous for its three towers overlooking the city before stopping for lunch of an assortment of foie gras in a restaurant founded by a producer of artisanal foie gras.
Gueberschwihr- Le Goldert – Foie Gras Tasting Lunch
Then we continue on the wine route southward through the celebrated vineyards of Upper Rhine and the many wine villages.
We will stop in Guebwiller to visit the ancient Abbey of Dominicans, now a site of artistic events and performances, the monument is one of the most breathtaking sights of the region.
After that, we move on to Mulhouse and will stop at the centre of the old city to spend the late afternoon to discover its painted houses, lively streets and shops and have a drink on the Place de la Réunion.
One last trip south will take us for a unique dinner at the most famous cheese affineur in France. Indeed, we will participate to the "Ceremony of Cheese" with Monsieur Bernard Antony. This dinner is an initiation of sorts, with six courses featuring five kinds of cheese, each matched with wines from his cellars. A unique gastronomic adventure!
Vieux Ferrette – Bernard Antony – La cérémonie des fromages – Cheese Tasting Dinner
An hour's drive later, we return to the hotel in Colmar for a benefical night's rest.
Colmar – Le Maréchal – Night and Breakfast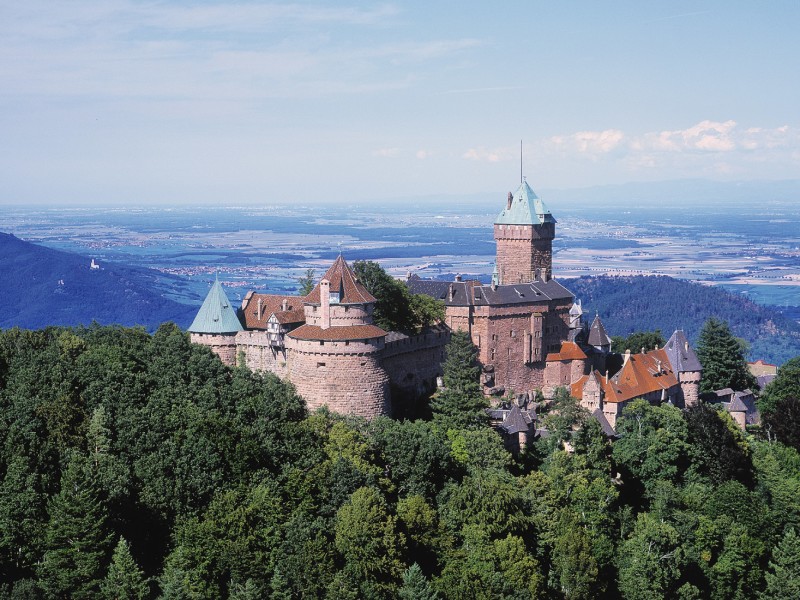 Day 6
After a final walk through downtown, we take the fast route north, cross St. Hippolytus and access the rocky promontory of Upper Koenigsbourg where we will visit the 12th century pink sandstone castle. Particularly majestic, it was looted, then burned in 1633 and remained abandoned for two centuries. It was fully restored to its former glory, by William II, the last German Emperor and King of Prussia, when Alsace was under German rule in the early 20th century. Today this is one of the most stunning illustrations of the Middle Ages in Europe.
We then descend into the plain to the village of Kintzheim for lunch at an inn known for its traditional Flammenkueche – a form of Alsatian pizza.
Kintzheim – Auberge Saint Martin – Lunch
Then we pass through the neighbouring village of Chatenois, with its typical local church, then by the town of Selestat, before returning north Epfig, where we stop for a wine tasting at the renowned Domaine Ostertag.
Finally, we reach Strasbourg and will take a late afternoon walk to the picturesque quartier of La Petite France with its old half-timbered houses built along the Ill river, the covered bridges, the Vauban dam and the alleys of the lively old town.
It is here in these medieval streets that we will dine at Chez Yvonne. This traditional tavern has seen many celebrities, but has never lost its authenticity and its regional cuisine rare quality.
Strasbourg – Chez Yvonne – Dinner
After dinner, guests of the formula DOMAINES return Hotel Regent Petite France, and those of the TERROIRS formula will return to the Maison Kammerzell, both close enough to be reached on foot.
DOMAINES
Strasbourg – Le Régent Petite France – Night and Breakfast
TERROIRS
Strasbourg – Baumann/Maison Kammerzell – Night and Breakfast
Day 7
The last day will be devoted to Strasbourg and we will take time do some gourmet shopping and to visit some places still unexplored, such as the Rohan Palace and the Cathedral of Strasbourg.
Construction of this monument was launched in 1176 and completed in 1439. For several centuries, it remained the highest building in the world. You will be astounded by the detailing of this pink sandstone gothic masterpiece. Inside we will discover the richly decorated nave windows and the famous astronomical clock from the 16th century.
For our last lunch, we'll go to the Crocodile, the most awarded restaurant in Strasbourg for feasting on traditional and refined cuisine.
Strasbourg – Le Crocodile – Lunch
You will then be driven to the station to catch the TGV to Paris at 15.30 bringing back with you the thousands of memories of smells, tastes and colours that will remain from your stay in Alsace. We bid you adieu and hope to see you again on another DOMAINES & TERROIRS Journey.
TGV
-departure from Strasbourg at 15:30
-arrival in Paris by 18:00
A unique region in the northeast of France. A land of rolling hills, the beautiful Vosges mountains, rivers and canals and the sinuous Alsacien Route des Vins. The unusual terroir of this region produces original unique wines, charcuterie, specialty candies, biscuits, preserves and eaux de vies and historians even say foie gras originated from here. We honour the famous Munster d'Alsace which originates from this region.
Pricing 2016

| €/pers 7 days | Guided 8 per | Guided 4 per | Self Guided |
| --- | --- | --- | --- |
| Domaines | €4,175 | €4,850 | €3,200 |
| Terroirs | €4,025 | €4,675 | €3,050 |
Enquire Now
Directions
le région d'Alsace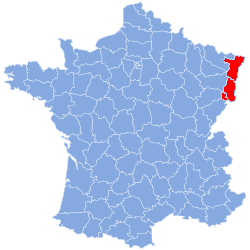 Testimonials
""One cute little town after another, nice people and the cheese, food and wine were astonishing!""
Sandy & Dan Dawson, Agua Dulce, California
View Testimonials
Photo attribution : D&T, Strasbourg-La-Petite-France-©-AAA-Zvardon, Village-de-Kaysersberg-credit-©AAA-Zvardon, Illuminations-rue-des-Marchands-à-Colmar-©-AAA-Zvardon, Haut-Koenigsbourg-©-CRTA-Zvardon, Strasbourg-Ponts-couverts ©-AAA-Zvardon, Lac-blanc-et-Ballon-des-vosges-credit-©-PNRBV-Couchouron, various works licensed under Creative Commons Attribution Licenses
This work is licensed under a
Creative Commons Attribution-ShareAlike 4.0 International License
. You can view all
Photo Attributions here
.