Causse Sud Itinerary - Roquefort
Day 1
Welcome at Rodez Airport
The car will drive you to the remarkable village of Conques, the first one of 'Les Plus Beaux Villages de France' (The Most Beautiful Villages of France) we will see. There you will formally meet your travel partners over lunch at the Michelin starred Domaine de Cambelong where Chef Hervé Busset. We will outline the coming week's experiences, what you should expect and answer any questions you may have about our journey.
Conques – Domaine de Cambelong – Lunch
You will have time to discover this stunning village that afternoon before we head to our first hotel and if it's not too late, we will stop to see a regional wine producer in the Vallon de Marcillac to help you begin to sense the terroir of the region.
Onet le Château – Hostellerie de Fontanges – Dinner, Night and Breakfast
Day 2
through the gorgeous Gorges de la Truyère, pass through Entraygues and stop in Bozouls and Espalion in the morning and lunch along the way in Sainte Eulalie d'Olt. All being included as the most beautiful villages in France of course!
Sainte Eulalie d'Olt – Lunch
We will arrive at the end of the afternoon in the spectacular Gorges du Tarn, near Sainte Énimie, (yet another member of the TMBVOF club) to stay in a castle from the Middle Ages, lovingly converted into a very comfortable hotel.
Sainte Enimie – Château De La Caze – Dinner, Night and Breakfast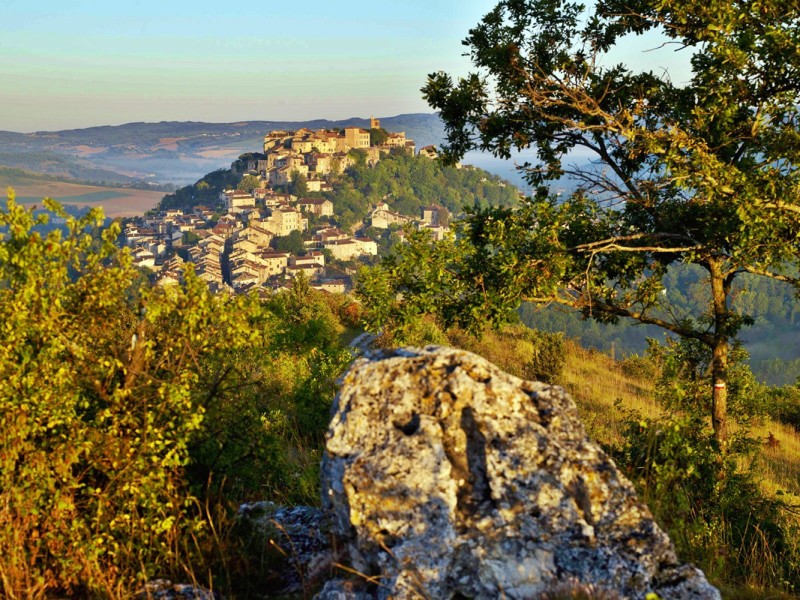 Day 3
The morning will be devoted to marvelling at the spectacular Gorges du Tarn as we kayak down the River Tarn. We will picnic in La Malène.
La Malène – Picnic Lunch
Then it is off for the afternoon to visit an artisanal, biodynamic farm in Florac and samples some of their goat cheeses and arrive back at Château De La Caze for a well deserved aperitif and dinner to help you recover from our day's adventures.
Sainte Enimie – Château De La Caze – Dinner, Night and Breakfast
Day 4
Shortly after leaving the hotel, our day will start with another natural experience in Aven Armand where you will experience the stunning geological wonders of the Causses. A millions years in the making, this underground cathedral with its natural pillars, colours and shapes will astonish you. We then follow the Canyon of the Tarn for a while and ascend to the Causse de Sauveterre plateau to take the highway south through the wild and stony landscapes of the Causse du Larzac and you will learn the true story behind the famous werewolves of Lozère (as seen in the 2003 film La bête du Gévaudan). Arriving in the the town of Meyrueis, we will stop for lunch in a traditional family château.
Meyrueis – Château d'Ayres – Lunch
After lunch, our path will then take us south across a modern wonder of the world, the Viaduc de Millau, which has its highest point at is 343 meters and the bridge culminating at 245 meters above ground, all being two a half kilometres long and then to La Couvertoirade (again, one of TMBVOF) to visit this Templar village surrounded by its six hundred years old fortified walls.
From there we will follow the remote Causses landscape to return to the village of Millau and the road to Peyre (again, one of TMBVOF), where you will be able to admire the impressive Viaduc from below. To refresh ourselves, we will stop for the evening in the nearby Château de Creissels.
Millau – Château de Creissels – Dinner, Night and Breakfast
Day 5
At this point, we will be entering the domain of the "King of Cheeses" – Roquefort. Here our morning will start with a visit and tasting at the Cave and Museum of La Société, the world's large Roquefort producer. We will then go on to visit and sample the artisanal Roquefort of Gabriel Coulet who will open his cave to explain to you the centuries old tradition of cheese making and aging. And no visit to Roquefort would be complete without stopping off at the allusive producer, Le Vieux Berger.
Roquefort – Tasting Lunch
On our way to the heart of Aveyron, we will pass by the picturesque villages of Saint Affique and Brousse le Château (again members of the club) crossing the vast Parc Naturel Régional des Grandes Causses to arrive in the city of Albi. We will have time to visit this mythical city, home of the ill-fated Albigensians (Cathars religious sect), Sainte Cécile cathedral; the Palais Berbie (which houses the Toulouse-Lautrec museum) and the Pont Vieux, one of the oldest bridges in France. Our hotel for the evening is not merely a landmark four-star hotel, but it is also one of the oldest hotels still in operation in France. Since it opened its doors in 1734, the same family has welcomed guests for an amazing five generations.
Albi – Hostellerie Saint Antoine – Dinner, Night and Breakfast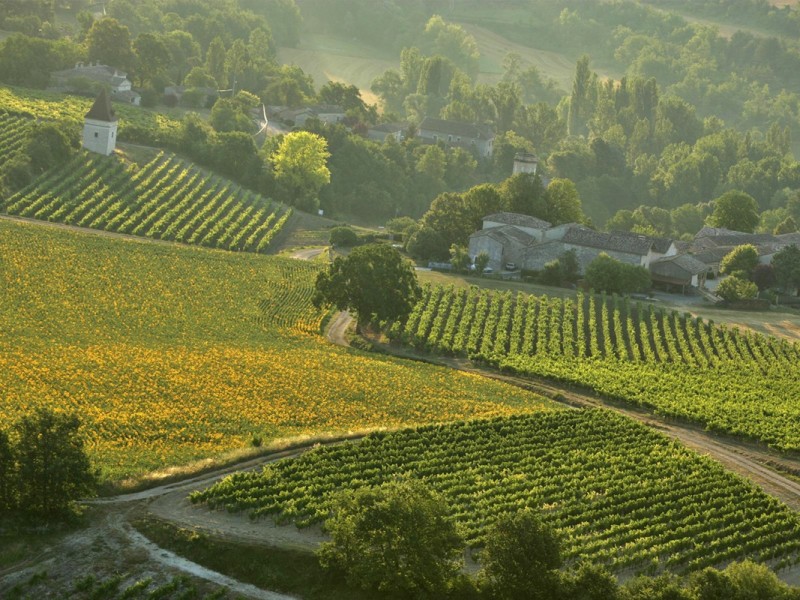 Day 6
The day will begin with a visit to several vineyards in the curious region of Gaillac. Our regional wine expert will guide us through the intricacies of these unique wines, which have been produced since the Romans graced these lands and we will discuss pairing and production over lunch with him at one of the better known domaines of the area.
Gaillac – Vineyard – Lunch
AThen it's off to discover the medieval town Cordes-sur-Ciel an amazingly well preserved bastide perched on summit Puech de Mordagne overlooking the valley of Cérou (yes another LPBVF!) where you will be free to explore the citadel. Visit the gothic houses, the Musée de l'Art du Sucre, a museum dedicate to the art of sugar, the Escalier de Pater Noster (the Stairs of Our Father) and the Jardin des Paradis (Garden of Paradise) and return back to the our sublime hotel for dinner provided by the team of the world-renowned Yves Thuriès, the first winner of two different categories in the prestigious Meilleur Ouvriers de France competition. He is also the author of the first tome on French pastry, le Patisserie Français, so save a place for dessert!
Terroirs
Cordes sur Ciel – Terrasse Sur Ciel  ou Le Hostellerie Du Vieux Cordes – Dinner
Le Logis Hostellerie Du Vieux Cordes or Hôtel La Métairie, Château de Laborde, – Night and Breakfast
Domaines
Lieu dit Salettes, Cahuzac sur Vère – Château de Salettes – Formal Dinner, Night and Breakfast
Day 7
On our final morning, we will prepare to leave for Sauveterre-sur-Rouergue to discover one of the best preserved bastide in France before our driver takes us to our goodbye lunch in the beautiful village of Belcasel.
Belcastel – Le Vieux Pont – Lunch
Rodez / Marcillac – Here we will smooth your way back to the Rodez airport for Paris or London or possibly for the next leg of your holiday, making sure the images, flavours and memories that – we are certain – will remain with you forever, are firmly stowed for future reference and enjoyment. We bid you adieu and hope to see you again on another DOMAINES & TERROIRS Journey.
Pays Cathare & Gorges du Tarn. Wild, tough, traditional and dynamic. The land of vast limestone tabletops, sheep and goats, all things duck and goose it is here you will find the famous Rocamadour & Roquefort.
Pricing 2016

| €/pers 7 days | Guided 8 per | Guided 4 per | Self Guided |
| --- | --- | --- | --- |
| Domaines | €4,050 | €4,475 | €2,925 |
| Terroirs | €3,775 | €4,225 | €2,650 |
Enquire Now
Testimonials
"Thoroughly enjoyed everything we experienced and the cheeses were amazing, "
Denise & Johann Tschurtschenthaler New Plymouth, New Zealand
View Testimonials
photo credit: D&T, Aveyron Millau Viaduct 21st century © CRT Midi-Pyrénées D.Viet, Tarn the Gaillac vineyards © CRT Midi-Pyrénées D.Viet, Cordes-sur-Ciel clinging to the Puech de Mordagne © CRT Midi-Pyrénées D.Viet, Tarn the historic centre of Albi © CR Midi-Pyrénées D.Viet, various works licensed under Creative Commons Attribution Licenses
This work is licensed under a
Creative Commons Attribution-ShareAlike 4.0 International License
. You can view all
Photo Attributions here
.