Causses Nord
Périgord & Quercy
Home of the Knights Hospitaller of Saint-Jean-de-Jérusalem, the Hundred Years' War (Guerre de Cent Ans), the pilgrimage route to Santiago de Compostela Rich, this rich medieval land -impressive and stunning –  is said to be the cradle of mankind in Europe. Explore incredibly beautiful region with its medieval history and discover the quintessential cheeses of this high plateau region – Roquefort, Rocamadour, Bleu des Causses, Cabécou and Pelardon and its foie gras, truffles, walnuts, chataigne and the wonderful wines of Cahors, Bergerac and Gaillac and Armagnac are all to be discovered in a fabulously beautiful yet little known region.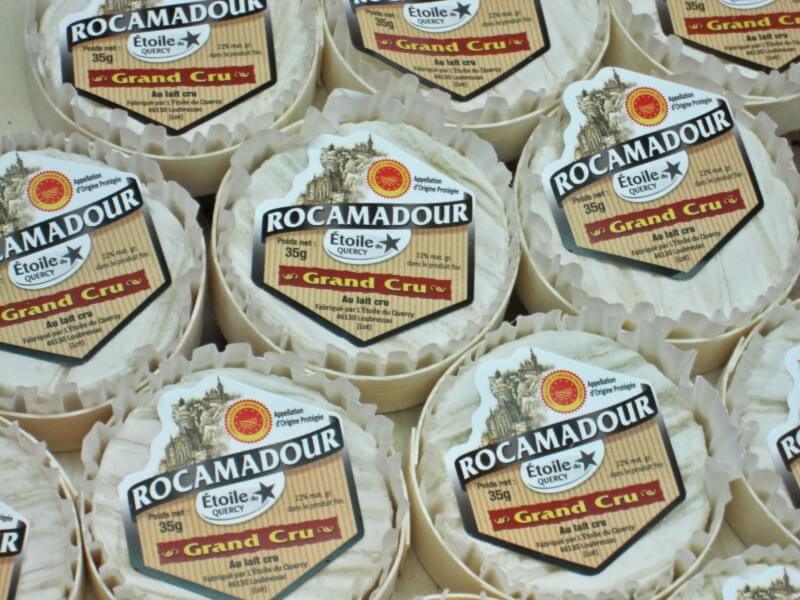 The Cheeses
Rocamadour
Cabécou
Bouyguette des Collines
Truffe du Perigord
One of the most famous goat cheese in France is produced by small producers in the Lot.
Rocamadour or Cabécou de Rocamadour
Originally called Cabécou in Occitan, which means "little goat", this cheese may have its origins from the time the Saracens invaded the region. This is the famous goat cheese of the celebrated village of la Vierge Noire (the Black Virgin). Rocamadour. A medieval settlement erected directly on a cliff, in the rich countryside of Causses du Quercy. It is one of the oldest traditional products made in Quercy, the Lot region. In historical text from the 15th century, this cheese is described as having monetary value and used to pay taxes and as part of the métayage system used by serfs, as tenant farmers to pay to their Seigneur.
This region's has chalky soil, marked by history and human activity, and is favourable for the raising of goats. The curds are placed in moulds by hand; it has a fine rind, a tender and creamy interior and is only 100g. This most wonderful cheese has a distinct animal perfume with subtle creamy and buttery flavours, with a slightly sweet hazel-nut perfumed aftertaste. It can be eaten throughout its ageing, which strengthens the tastes, eat it fresh, or when it has become creamy, aged when it has dried out or baked on a salad or on a slice of bread. Recommended wine:  White wine: Lirac (Clairette, Grenache Blanc grapes) Light and fruity red wine: Beaujolais (Gamay Noir grape) But the best is a glass of Cahors will reveal its subtle aromas.
Cabécou
The Cabécou in its many forms, is poorly served by the similar properties it shares with its famous neighbour, Rocamdour, There are several different formats for this cheese, all stemming from the same basic production: the Cabécou de Perigord, the Label Rouge Cabécou d'Autan, , the Cabécou du Fel in Quercy, Cabécou d'Entraygues, Livernon, Limogne and Gramat of course the miners Cabécou – Cabécou Feuille, made with cow's milk and wrapped in walnut or plane tree leaves. This delicious farm cheese gets its flavour from the richness of the milk. Primarily from goats, who graze in pastures full of luxurious vegetation (hawthorn, mulberry-tree, juniper-tree, etc) of the Midi-Pyrenees, they all have their own specific tastes but basically exhibit the caprine tastes with Rocamadour.
Bouyguette des Collines
Similar to one produced in Provence, this award winning cheese is formed by hand into small log with linen gauze, which leaves a fine textured surface. It is decorated with a sprig of rosemary and has a pure white pate that is soft and moist. The taste is light and acidilous. 100 grams
Truffe du Perigord
Truffe has always been produced on the farms; at one time it was found in the Allier, today it is made in the Lot. The cheese is made with raw goat's milk and only ripened a few days in a humid cellar. The form is original and has a black rind with an ivory-white pate.. The taste of the Truffe du Perigord is fresh and sweet with a mild flavour in the goat cheese tradition and is 75 grams.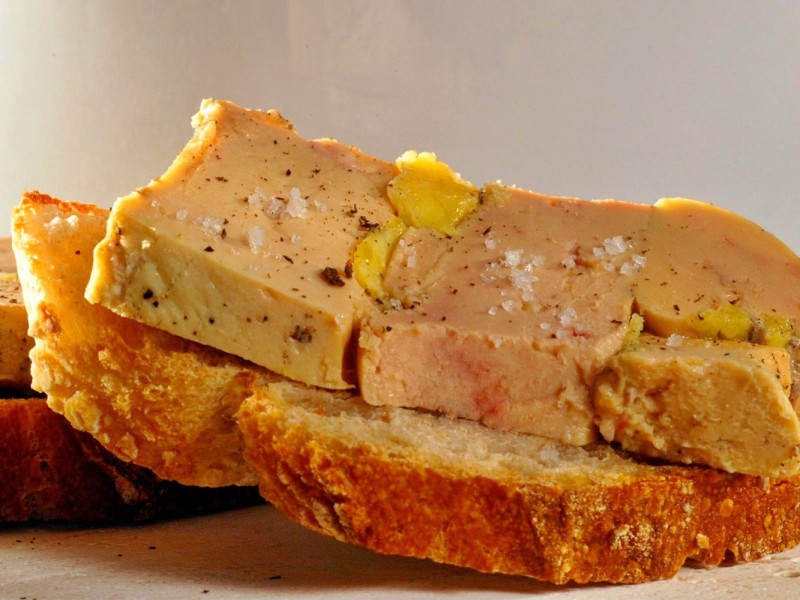 Gastronomy
Here in the Lot & Dordogne one finds all things, goat, duck & goose! Here you will experience the most famous gastronomic products:   Confit de canard, foie gras, walnut oil and big beefy Cahors wines.
Foie gras  The authenticity of the tradition for raising and feeding duck and geese is the domain of this region and offers all the know-how guarantees necessary for the making of foie gras, confit of duck and goose, magret (duck breast), a traditional stuffed neck and of course, gésiers or gizzard. Introduced into France by the Romans, foie gras found in the Lot comes from geese and duck who have been feed only corn. It can be found in many forms, from fresh, to slightly pan fried (with a demi-glace of raspberry viniger or a walnut liqueur for example), half cooked (mi-cuit) or cooked (cuit) and eaten on a slice of wonderful local bread called tourte  de campagne, which has been made in wood burning ovens.
Black Truffle The black truffle (Tuber melanosporum) has three requirements to allow it to be born and grow : the presence of a truffle type tree, such as an oak or hazelnut, calcium rich soil and a Mediterranean climate. The Lot is among the first in the country for producers of this highly sought after product of Mother Nature. The harvest begins in November and lasts until the beginning of March. The 'trufficulteur' has several methods to help him gather this precious 'mushroom', a special pig, a dog or flies. It is in the cities of Limoges and Lalbenque that one can appreciate the subtle mysteries of the 'black diamond'.
Black Walnuts The walnut is at home in the Lot where one can find them everywhere, not a village, nor a valley is without their orchards. These delicacies can be eaten in salads, hidden in the heart of cakes, mixed with a dark chocolate mousse. Full of flavour, it can be eaten fresh or dried, made into walnut oil and a 'walnut water' which is used in traditional alcoholic beverages with plums or in Ratafia.
Safran Under the name of « le crocus», the red-orange stigmata of the crocus flower are harvested by hand and dried under a gentle fire. It takes almost 200,000 crocus flowers to obtain 500 grams of saffron. This spice is the most expensive in the world. For many years the Department of the Lot has seen these fields of mauve reflower from mid-October to mid-November.
Chestnuts Leaving it's traditional image behind, the chestnut, since the beginning of the 20th century has undergone many mutations in the way it is consumed. From a basic subsistence food with only local consumption, its image has been transformed and is now distributed throughout the world becoming a totally modern specialty food product. In past times, it was consumed by those who produce it, but now it can be seen in major cities and in many chic guises marked by it's strong identity as a regional food and it's concept of local terroir. This fruit is also known in cooking circles by the name of «marron». It is eaten after being peeled, either boiled, candied, braised or grilled, and is found in stuffing and farcies. In Europe, the chestnut is associated with wild poultry and chicken. With 40% starch, twice that of potatoes, it can be served as a side dish to replace. A flour is also made from the fruit. The Lot & Dordogne are home to several wine regions, lesser known than their neighbor, Bordeaux but just as interesting. AOC Cahors AOC Bergerac AOC Monbazillac VDQS Coteaux du Quercy VDQS Entraygues, Estaing et du Fel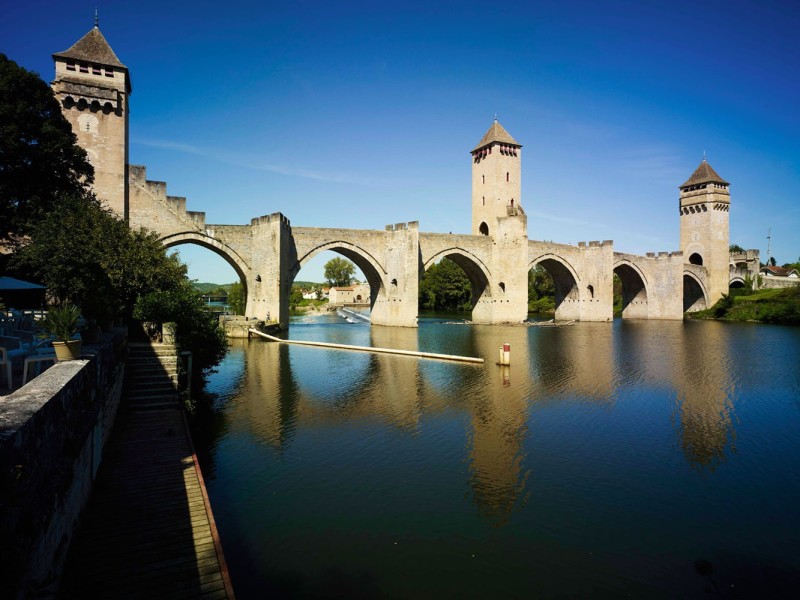 Regional Interest
Adieu! In Occitan this means hello and welcome to the northern most part of l'Occitanie, the home of the Occitan language. This is the land of pilgrimages, goat, duck & geese, fortified towns, slate or tile stone roofs and rugby! Now divided into two departments, Aquitaine-Limousin-Poitou-Charentes and Languedoc-Roussillon-Midi-Pyrénées, Perigord and the Lot have always been historically connected. Located in the north of each of these newly formed departments, the region presents the visitor with vestiges of pre-historic man, the reign of the English when Eleanor of Aquitaine became queen of England, religious wars, far-reaching medieval commerce, and some of the most beautiful countryside in France dotted with fairytale castles, rolling, fertile countryside and magical villages.
The Lot is a favourite region in France because of its varied and attractive scenery and Aveyron has more villages classified among the MBVF – the 'most beautiful villages of France' than any other French department. Rocamadour in the Lot, is among the most visited places in France, second only to Mont Saint-Michel. Not far from Saint-Cirque-Lapopie are the most spectacular sites for pre-historic hand paintings at Pech Merle & Lascaux and the caves of Padirac. For centuries, thousands of pilgrims walked the trail to Santiago de Compostello through Rocamadour, Figeac & Conques. In Laguiole at the heart of the Aveyron, the famous forge produces the beautiful Laguiole knives which still bear the bee symbol on their handles.
Interested in the Causses Nord Journey
Don't miss out. Make your enquiries now.
Périgord & Quercy - the land of the Lot & Dordogne, cradle of European civilization and now home to the world famous Rocamadour and its foie gras, truffles, walnuts, chataigne and the wonderful wines of Cahors and Bergerac. All are hereto be discovered in a fabulously beautiful yet little known region.
Pricing 2016

| €/pers 7 days | Guided 8 per | Guided 4 per | Self Guided |
| --- | --- | --- | --- |
| Domaines | €4,450 | €4,975 | €3,300 |
| Terroirs | €4,025 | €4,550 | €2,875 |
Enquire Now
Directions
The Lot & Tarn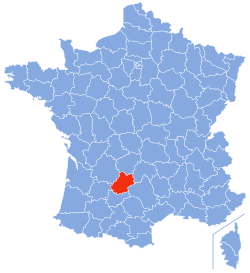 Testimonials
"Thank you for a wonderful time and we really hope to see you again soon!"
The Moberg family
View Testimonials
photo credit: D&T, Lot Saint-Cirq-Lapopie © CRT Midi-Pyrénées D.Viet, Foie gras on pain de campagne © CRT Midi Pyrénées D.Viet, Pont Valentré 14th century Cahors © CRT Midi Pyrénées D.Viet, various works licensed under Creative Commons Attribution Licenses
This work is licensed under a
Creative Commons Attribution-ShareAlike 4.0 International License
. You can view all
Photo Attributions here
.