Normandy Overview
A land of contrast featuring the sea and the ever-green rolling countryside, Normandy offers our guests a combination of the bucolic, historical importance and culture. As far back as the 5th and 6th centuries, Christian missionaries implanted monastic communities in the territory. The name Normandy - Normandie - reflects the first Normand ruler, Rollo and his Viking or "Northman" origins.
When in the region, we will make sure that our guest partake in the local traditions and savour the local culinary prowess.  Perhaps we will savour some of the precious Normand fruit de mer or take a break with an aperitif called a kir normand and most certainly we will have a trou normand which is dispensed to diners between courses to improve the appetite by making room for what is to come next, namely the celebrated cheese!
The Cheeses
Camembert de Normandie
Pont-l'Évêque
Livarot
One of the most famous cheeses in the world comes from Normandy – Camembert de Normandie! Even though in the Middle Ages, Normandy required large scale importation of wheels of hard cheese from England to feed its ever-increasing population, production of cheese in Normandy has been documented from as early as the 10th century where it was used as a tithe.
In the 12th century, a cheese known as Angelot or Augelot was being made by Cistercian monks near Caen in the Pays d'Auge. In 1255, Guillaume de Lorris and Jean de Meun wrote in their heroic poem the Roman de la Rose, that 'a good table was always graced with a dessert of Angelots'. The term Angelots originally described the predecessor of Pont-l'Évêque but later became the designation for all Norman cheeses.
Gastronomy
Wine & Spirits – Apple Culture
Cider
Pommeau
Calvados
Bénédictine Brandy
In Normandy where very little wine is produced but the land is rich with apple orchards, apple based drinks are the beverages of choice. Normandy has four AOC cidricoles (Appellation d'Origine Contrôlée) or cider based products : Cider from the Pays d'Auge, an aperitif – Pommeau from Nomandie, produced by blending unfermented cider and apple brandy, Calvados, Calvados from the Pays d'Auge, both apple brandies. Bénédictine brandy is produced in Fécamp and is either on ice as an aperitif or neat as a digestive and Poiré or Perry, a pear liquer is also produced in the region.
French cidre or sydre in latin was introduced into Normandy in the VIth century by mariners from Dieppe. It is an alcoholic drink generally made from apple juice but can also be made from pear juice and almost all are sparkling. After wine, cider is the most consumed drink in France. Ciders can be found in at all price ranges but higher quality cider can command prices similar to wine and are in sold in champagne-style bottles called cidre bouché.
Cidre Doux is a sweet cider can be up to 3% alcohol
Demi-Sec ranges between 3.5%
Cidre Brut strong dry cider at least 5% alcohol
Receiving its AOC in 1996, cider from the Pays d'Auge must conform to strict AOC regulations. Two criteria are foremost in the production of quality cider. It must contain 70% juice from bitter or bittersweet varieties and more than 60% must come from the same variety.
Of the more than 750 apple varieties that are used for typical ciders, local producers of the AOC Cider rigorously select from only 50 to produce the required local terroir. AOC Cider from the Pays d'Auge is made according to traditional techniques which codify each step of the transformation.
The art of degustation of this fine produce of nature and man is a visual, olfactory and gustatory process. The mousse is extremely fine, white and lingers when poured. The colour of the cider is intensely yellow orange or amber depending on the apple varieties. The nose is strong, complex and varies also according the cider makers art.
Young cider has strong aromas of fruit ranging from apples and citrus fruit, linden and anise flowers, caramel and honey, or fresh butter. In matured ciders have aromatic notes principal among them being vegetal, woody or spicy. In the mouth, AOC cider from the Pays d'Auge is well structured and well-round, very palatable with a final note of bitterness. The aroma is strong and lasting and the effervescence gives it an agreeable freshness.
Calvados
The first written report of the distillation of an apple brandy is purported to be a treatise written by Sieur de Gouberville from the region of Cotentin on 28 March 1553 on the distillation of cider brandies or cider eaux de vie. A guild for cider distillation came about later in 1606. After the phylloxera outbreak in the latter part of the 19th century wiped out the vinyards of Europe, Calvados came to the forefront.
Eau de vie from Calvados receives its AOC in 1942. Pommeau, the mix of unfermented cider and apple brandy received its AOC in 1991 and the AOC Calvados Domfrontais, a mixture of apple eau de vie and 30% pear came in 1997.Hence, three AOC coexist in the region the Calvados AOC, the Calvados Pays d'Auge and the Calvados Domfrontais AOC (apple & pear) but there also exists a good number of calvados fermier or farm made calvados in the region.
Fine, Trois étoiles (stars),Trois pommes, VS or Very Special – at least two years old
Vieux Réserve – at least three years old
VO, Vieille Réserve or VSOP (Very Superior Old Pale) – at least four years old
Hors d'Age, Extra, XO, Napoléon, Age Inconnu – at least six years old and often much older
The degustation of a good Cavla should bring to mind the taste and aromas of apples and pears. The younger calvados generally will have notes of fresh apple and pear, while a golden brown, aged calvados will have a delicate nose with a concentration and palate of apples and dried apricots and some say with butterscotch, nut and chocolate aromas like a good Madeira or a Cognac.
Regional Food
Milk, cream & butter
Normandy cream and butter are truly gastronomic specialties and used not only throughout France but enjoy a worldwide reputation. As far back as the Middle Ages, the butters, creams and mild products of Isigny have been known. An edict in 1551 documented the importance of the colour of Isigny but-ter as la fameuse teinte bouton d'or or the celebrated golden button colour Since the 18th century, Isigny butter has been exported around the world and between 600,000 and 800,000 kilos were eaten by Parisians alone! The AOC Isigny stipulates that the milk must come from the region and can only be made using authorized traditional methods.
Cream
Competing with Great Britain for the most variety in milk products, France and Normandy (and Brittany) produce the many different types of milk products. Isigny cream is a thick crème fraîche made from pasteurized milk. It must be left to rest for 24 hour and then the cream is skimmed. It is then left to rest another 16 to 18 hours at between 18 and 22°. It contains a minimum of 35% matière grasse or fat in dry matter. It is ivory in colour with a firm yet supple texture, and is slightly acidic in taste.
Butter
The French consume a great deal of butter. According the food writer Susan Herrmann Loomis, they eat more than 17 pounds per person a year, making them the world leaders in consumption. Butter from Normandy and its neighbour Brittany are the leaders. Butter from Isigny has had its own AOC (Appellation d'Origine Controllée) since 1986. It is unctuous and homogenous in texture and has the admirable quality of being stable while cooking and be able to well at temperature. There are more varieties than in any other country, at least 13 different types exist.
Fruits de mer (seafood
Agneau de pré-salé (sheep and salt marsh lamb)
Volailles, veau & porc fermier de Normandie (Normandy farm raised poultry, veal and pork)
Regional Sweets
Crêpes normandes
Tarte normande
Teurgoule
Caramels d'Isigny
Le Sucre de Pommes de Rouen
Michelettes du Mont Saint-Michel
Regional Interest
The historical Duchy of Normandy was an independent duchy occupying Upper and Lower Normandy including the Channel Islands (Îles Anglo-Normandes). Major cities include Rouen, Deauville, Caen, Bayeux and Cherbourg, the resorts of Étretat and Fécamp, Honfleur, Trouville and Deauville, the the Swiss Norandie around Falaise and Vire and le bocage near St-Lô.
With D&T our guests will discover picturesque villages in the bocage, the stunning cliffs at Étretat and Fécamp, the Debarkation Beaches, the World Heritage monument, Mont St. Michel and the many other beautiful villages, catherdrals, musems and stunning coastlines.
Interested in the Normandy Journey
Don't miss out. Make your enquiries now.
The land of cows, the sea and all things butter & cream, this wonderful, rustic but spectacular region offers world famous cheeses such as Pavé d'Auge, Camembert, Pont l'Évêque, Livarot, butters, crepes, seafood, ciders and Calvados.
Pricing 2016

| €/pers 7 days | Guided 8 per | Guided 4 per | Self Guided |
| --- | --- | --- | --- |
| Domaines | €4,125 | €4,850 | €3,150 |
| Terroirs | €3,875 | €4,625 | €2,925 |
Enquire Now
Directions
le région de Normandie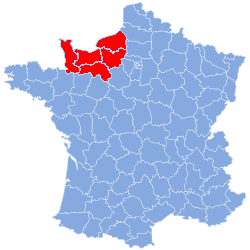 Testimonials
"La Fromagerie de l'Houssaye was definitely a highlight of our tour. A most educational and enlightening visit. Loved it! "
Mary Ann & James Macie, Atlanta, Georgia
View Testimonials
photo credits - D&T, Gastronomie-Calvados-©-Calvados-Tourisme, Chateau-Beaumesnil-©-H.-Rousseau-CRT
This work is licensed under a
Creative Commons Attribution-ShareAlike 4.0 International License
. You can view all
Photo Attributions here
.