La Cérémonie des Fromages in Alsace
Take an overnite trip deep into Alsace with us where you will find the wonder of Bernard Antony's famous Käs-kaller (cheese cellar) and be able to participate in his renowned la Cérémonie des Fromages.
Attend the renowned la Cérémonie des Fromages by Bernard Antony at his käs-kaller (cheese cellar) in his home region Sundgau on the very southern tip of Alsace. One of the most famous affineurs in France, Mr Antony was encouraged by none other than Pierre Androuët some 30 years ago and is the chosen supplier to such greats as Alain Ducasse, Pierre Gagnaire, Alain Passard and Alain Senderens.
The six course cérémonie de fromages is the penultimate tour de force for any fromologue. Offering not only the chance to sample the very best regional cheeses that France has to offer over six tasting plates of 22 cheeses in total but also to experience his cheeses matched with wines from his 800 bottle strong cellar. It is truly as he says, an unforgettable moment! The ceremony takes place in the evening and therefore requires an overnight stay so we leave from Paris on the TGV to Mulhouse and then by car to Sundgau to spend the evening in a nearby guest house – Hôtel Restaurant Aux deux Clefs. The next day after breakfast, we will stop back at Antony for cheese purchases and then go on to Mulhouse to catch the TGV back Paris.
| | |
| --- | --- |
| Departure : | Leave from Paris 12h15 via TGV, |
| Return: | Return to Paris 14h30 via TGV arriving at 17h30 |
| Size : | 2 – 6 people |
| Cost : | €550 per person self-guide or €1225 per person with guide – TBC |
| Includes : | Transportation (TGV & Car), La Cérémonie des Fromages, Hotel & breakfast |
| When : | Thursdays or Fridays |
| Customise : | We can customise the day on demand |
Taste the sublime in Alsace!
Don't miss out. Make your inquiries now.
Visit the south of Alsace where Bernard Antony's famous la Cérémonie des Fromages takes place and taste the sublime from this master affiner.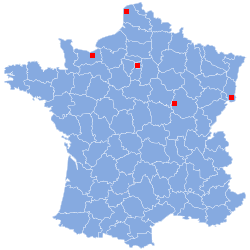 Testimonials
"We would love to take you with us to experience this once in a lifetime event!"
Domaines & Terroirs
View Testimonials
photo credit: D&T, Bernard Antony website, various works licensed under Creative Commons Attribution Licenses
This work is licensed under a
Creative Commons Attribution-ShareAlike 4.0 International License
. You can view all
Photo Attributions here
.