Rhône-Alpes Overview
In the French Alps discover the sumptuous French mountain cheeses - Beaufort, Reblochon and Tomme de Savoie. The region of the Rhône-Alpes is a beautiful region in eastern France featuring the spectacular Alps, sumptuous valleys and lakes and memorable local cultures.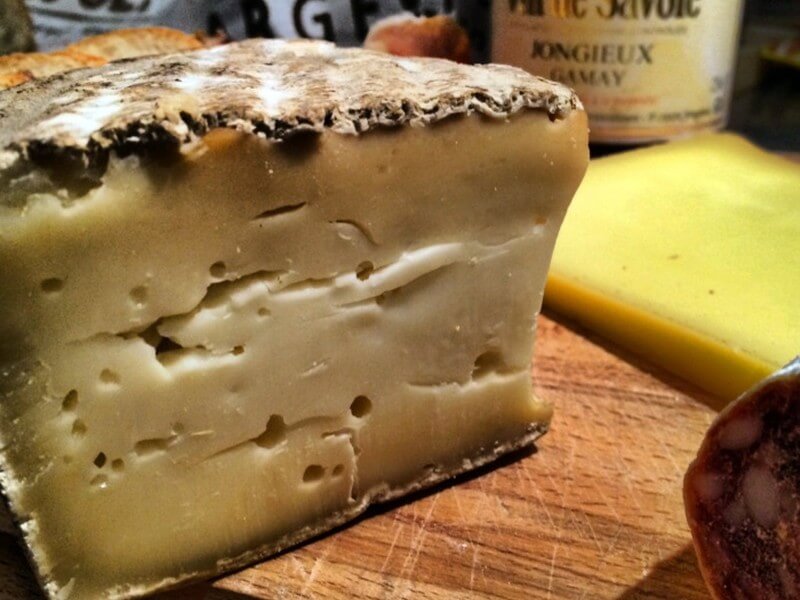 The Cheeses
Tomme de Savoie
Beaufort, AOC
Reblochon, AOC
Saint-Marcellin, AOC
Bleu de Bresse
Tomme de Savoie is made from raw, skimmed cow's milk which is why it has a traditionally low fat content.  The name tomme or tome describes the shape and there are many of these cheeses, which are named after the town or area they are made.  Tomme de Savoie is the one of the most famous and the best are fermier, or made on by a  farmer with milk from his or her own troupeau. It has a distintly different taste depending on whether it is made in the summer from milk made when the cows are eating fresh summer grass or in whinter when they are eating hay.  The tomme has a thick grayish croute with a pliable, smooth pate which has little holes throughout.  It is an interesting cheese and depending on the length of affinage, it can be grassy and nuuty in flavour but with age it develops a citrus tang and a deep mushroomy taste.Celebrated since the Roman era,
Beaufort is a big cheese and has sports the nickname "Prince of the Gruyères"!  It takes about 500 litres (130 gallons) of milk to make one 40-45 kg  wheel and once made it is constantly wiped and rubbed with brine for the duration of its' affinage.  It's only rival is Comté, but Beaufort comes in three versions, Beaufort, Beaufort d'été (summer Beaufort),and Beaufort d'Alpage which is made in the mountain chalets, each with their own fans.  Young, it is mild and fruity with a sweet taste. When it gets some age under its belt it becomes stronger, nuttier and complex.
Reblochon according to 13th century fables, was made by Savoie herdsmen who, in order to reduce the 'taxable' portion of milk they owed to their landowner, they milked twice, once in the morning to pay up and later with a reblocher, a second milking. This second milking produced a higher fat content milk and they used it to make Reblochon. It is smooth and supple with a mild fruity taste with a nutty afterbite.  It is the classic ingredient Tartiflette.
Saint-Marcellin was originally mader from goat's milk until the 13th century, now this is little wonder is strictly made with cow's milk in th Dauphine. The story goes that in 1447, the Dauphin Louis, future Louis XI was out hunting in the forest of Lente, Drôme and was attacked by a bear. Two loggers named Richaud and Bouillane rescued the future King and to help him get over his trauma they shared their lunch of bread and cheese. to thank them for their kindness, the Dauphin knighted them and gave them a reward. The Saint-Marcellin was that very cheese it came under the stewardship of the King of France. It is small and wrinkly but beautiful, with its white croute covered in white yeast, akin to a Brie. It is mushroomy, yeasty, earthy, nutty and a bit rustic in taste.  It comes in a small ceramic containor to hold it back when it ripens to a creamy, silky texture.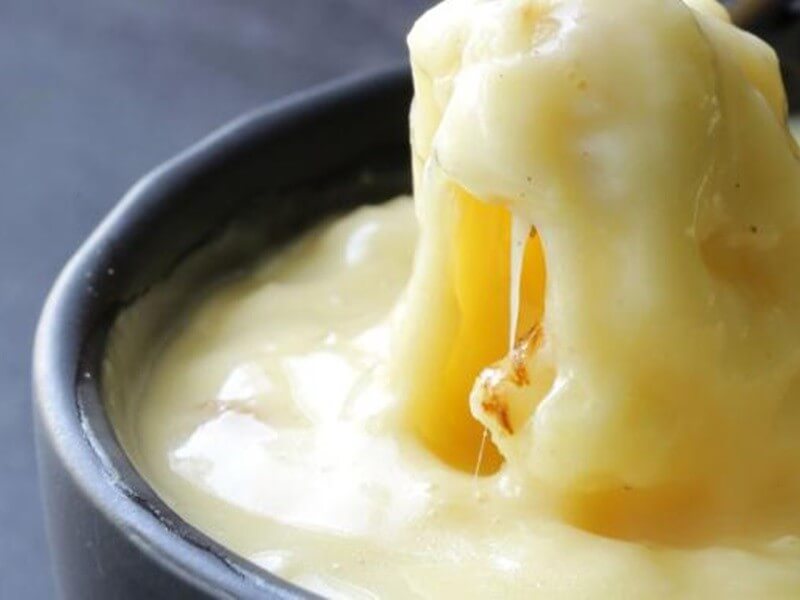 Gastronomy
Volaille de Bresse
Fish of Lake Léman
Poulet de Bresse, AOC
Bresse cream and butter, AOC
Quenelles
Tartiflette
Lyon is one of the gastronomic centres of France and is home to Paul Bocuse in Lyon,  Sophie Pic in Valence, Marc Veyrat in Manigod and the Troisgros family in Roanne, so lots of Michelin stars.  Lyon is home to famous large and small traditional restaurants called bouchons where on can find among other famous Lyonnais specialties quenelles (ground fish dumplings), rosette de lyon, cochonnailles (pork speciality), cervelle de canut (fromage frais seasoned with herbs) and several specialty desserts. traditional
Traditional food from Savoie and the Dauphin is simple, hearty and extremely substantial mountain food and lots of cheese. Tartiflette, which is made with potatoes and Reblochon cheese is a wonder. Here you will find all forms of fondue and raclette as well as fabulous savoyard sausages, the Diot.  But also the gratin dauphinois, gratin savoyard and the croziflette, made with the buckwheat pasta crozets.
Northern Côtes du Rhône – Côte-Rôtie, Saint-Joseph, Palais Grillet, Cornas, Crozes Hermitage
Beaujolais – Morgon, Chenas, Brouilly
Savoie and Ain – Chignin-Bergeron, Mondeuse
The region of the North and South Alps is vast and has a range of wines which covers big, hearty reds from Côtes du Rhône, light, fruity reds and whites from Brouilly and Beaujolais and the unique mostly white wines from Savoy.  It also is host to interesting alcohols such as  Chartreuse from Voiron and Génépi from Savoy.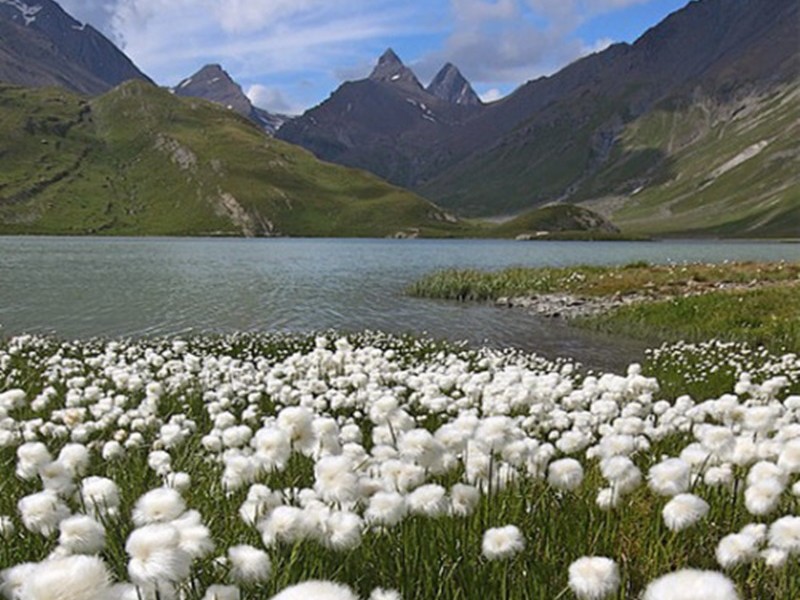 Regional interest
Beautiful mountains, stunning lakes and breathtaking scenery the French Alps is home to Mont Blanc and the rest of the French Alps and thousands of lakes large and small like Lémain, Bourget, and Annecy.  The  region includes several historic areas, principally the Savoy and the Dauphiné, but it also includes the northern part of Provence – the "Drome Provençal".
A skiers paradise, this region is the largest ski area in the world hosting Courchevel, Megève, Les Deux Alpes, Tignes and many others but also several glaciers and the largest National Park in France, the Parc des Écrins.  It is home to a member of the World Heritage List, the Cave of Pont d'Arc, known as Grotte Chauvet-Pont d'Arc.
Saint-Étienne is the Unesco City of Design, with its Art Nouveau heritage, offers the Museum of Modern Art and the Biennale du design, while nearby one can find the largest urban complex in Europe designed by Le Corbusier, The Firminy-Vert.
Interested in the Rhône Alpes Journey
Make your inquiries now to create a custom journey
In the French Alps discover the sumptuous French mountain cheeses Beaufort, Reblochon and Tomme de Savoie.
Directions
le région de Rhône-Alpes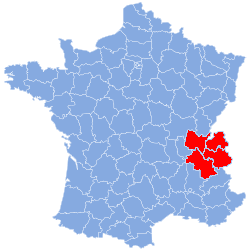 Testimonials
"Be the first to journey with us to the Rhône-Alpes, Savoie et the Haute-Savoie."
Domaines & Terroirs
View Testimonials
photo credit: D&T, © meribel dent burgin 2, various works licensed under Creative Commons Attribution Licenses
This work is licensed under a
Creative Commons Attribution-ShareAlike 4.0 International License
. You can view all
Photo Attributions here
.